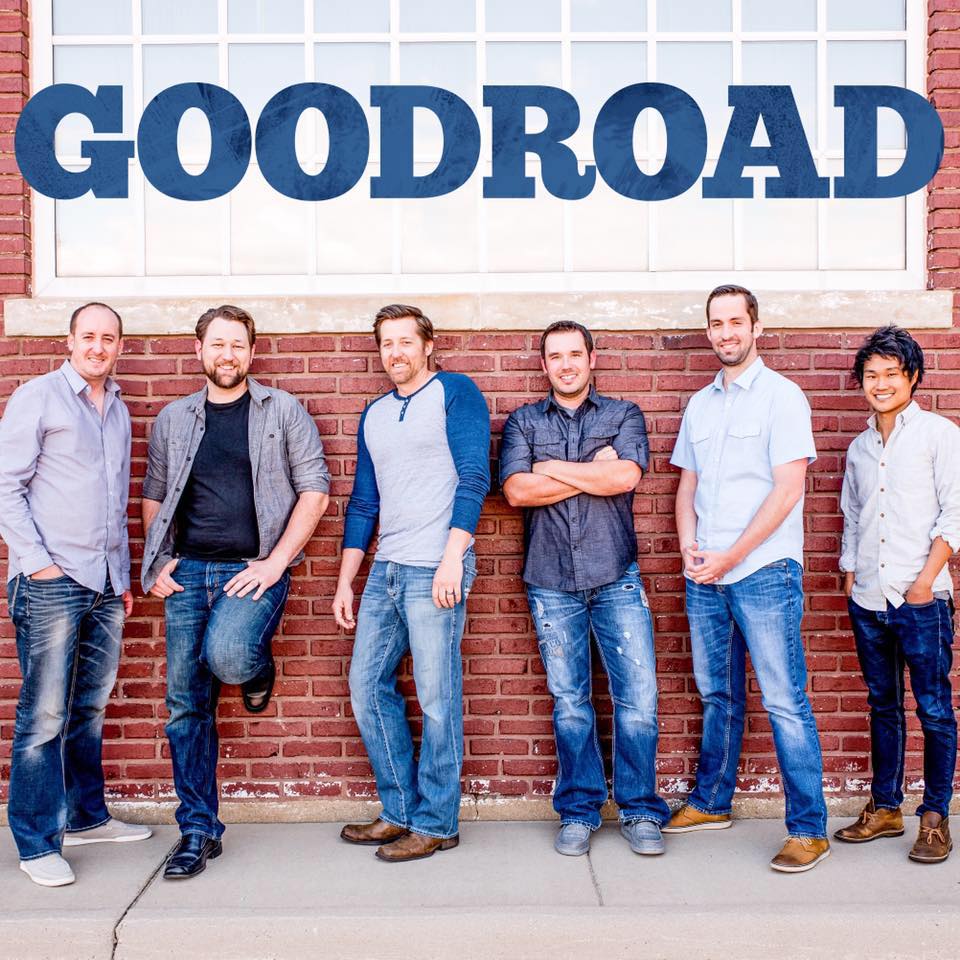 (Brian Hanegan, Jordan Ochocki, Kyle Maurer, Allen Goodroad, Erik Mahon, Micah Wetzel)
"We're just a group of guys who love to play music." If you'd ask Allen Goodroad, lead singer of Goodroad, about what this band is like, that's what you'd hear. "We've come from all sorts of backgrounds to form this unique group that allows us to play anything from Johnny Cash to Metallica."
What Allen's talking about, of course, is the wide range of musical talent in the group. Every band member is proficient in more than one instrument. While they keep drummer Kyle Maurer on the on drums to keep the groove, the remaining members pull out instruments that include guitar, mandolin, ukulele, saxophones, trumpets, trombone, fiddle, accordion, and keys. This allows them to not only play their original songs from their albums, but to also perform chart toppers and crowd favorites with their own twist.
Where can you find Goodroad? On any given weekend, Goodroad is packing the house at various venues around Sioux Falls and in many surrounding cities. They're also a favorite at The District and have performed at many corporate events including the Avera Big Grape and various holiday parties. They don't stop there – the guests at wedding receptions and private parties are kept on the dance floor by the energy the group brings.
What can you expect? A one-of-a-kind show. This band communicates on the fly to assure each performance is unique. You can catch guitar expert, Micah Wetzel, playing and singing Summer of '69 or Ants Marching. Or Brian Hanegan, saxy saxophone player, jamming to Shut up and Dance. You may get to hear bass player, Jordan Ochocki, rapping to Vanilla Ice or even play The Devil Went Down to Georgia on the fiddle. Their style allows them to play songs from a wide range of artists to include DNCE, Eric Church, Dave Matthews, Metallica, Maroon 5, Jon Pardi, Florida Georgia Line, Bon Jovi, Rascal Flatts, Lynyrd Skynyrd, Tom Petty, Justin Beiber, and every so often, Taylor Swift.
Goodroad released their third original album, How We Roll, on November 16th, 2016 at The District. How We Roll (2016) and their previous albums, Lonely Trip (2006) and Detour (2009), are available on iTunes. To purchase a CD, email Goodroad.